Laws to regulate shared bicycles in NSW commenced on 30 November 2018.
The laws aim to ensure operators of shared bicycle services provide a service that protects public safety and amenity, and addresses community concerns about abandoned, broken and poorly parked bikes.
Councils and other impounding authorities now have expanded powers to manage shared bicycles on public land that cause obstructions, pose safety risks or are left unused in one place for too long based on clear, risk-based time limits.
Key features of the new laws include:
Impounding officers will be able to immediately impound shared bikes causing an obstruction or safety risk, or move them to another location.
Operators that do not move a shared bicycle causing an obstruction or safety risk within 3 hours of being notified of their location by an impounding officer or any other person is taken to have abandoned the shared bicycle.
Operators that do not remove a shared bicycle left in the same place for more than 7 consecutive days within 4 days of being notified of its location by an impounding officer or any other person are taken to have abandoned the shared bicycle.
In cases in which an operator is deemed to have abandoned a shared bike, they will now be subject to a fine of $500 or a maximum penalty of $2750.
Impounding officers can also issue removal notices for shared bicycles left in a public place in contravention of the new laws. Operators failing to comply with the notice are taken to have abandoned the shared bicycle.
The ability to create a Code of Practice with further standards for shared bicycle operations and/or to regulate other types of shared transport devices in the future, if required.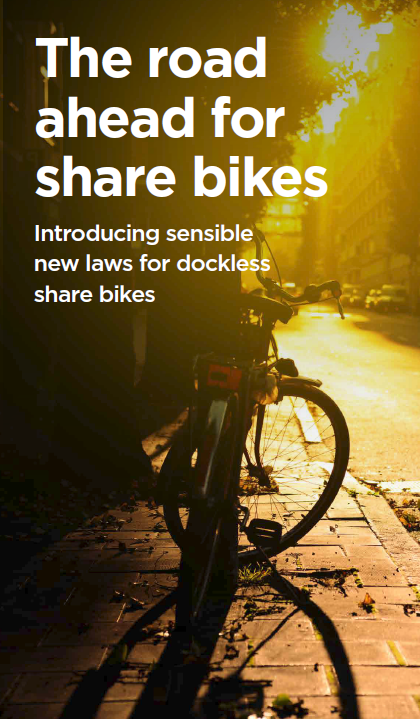 The laws build on voluntary guidelines developed by councils and consultation feedback from councils, share bike operators and community groups impacted by share bikes.
The Government will monitor the effectiveness of the new laws before determining whether to regulate more standards for how share bikes are operated via a mandatory Code of Practice.
Meanwhile, councils, other impounding authorities and operators are encouraged to work collaboratively on issues such as user education, data sharing, preferred parking zones and parking exclusion zones.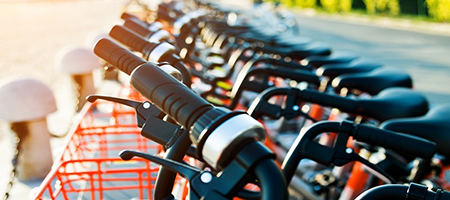 Information for the community about the new laws is available in the Share Bikes Community Factsheet and a New Rules for Share Bikes Infographic. Councils, other impounding authorities, bike user groups and other community groups may wish to upload these resources to their webpages, and/or share these on social media sites.
More detailed information for councils and impounding officers about applying the new laws and working collaboratively with operators is available in the Shared Bicycle Management Guideline.
Councils are able to apply for funding for cycling infrastructure under the Active Transport (Walking and Cycling) Program. Applications for funding under the 19/20 program close on 14 December 2018. Portal and application guidelines are available here: https://www.rms.nsw.gov.au/business-industry/partners-suppliers/lgr/active-transport/index.html
Impounding Act Review
The Impounding Act 1993, under which the share bike laws have been created, has recently been reviewed.
In November 2021 the Public Spaces (Unattended Property) Act 2021 passed Parliament.  The new Act has not commenced and will come into effect on a date appointed by proclamation and will replace the Impounding Act 1993.  Further details are here.
Bike Share Enquiries
Private companies operate bike share schemes and are responsible for operating these responsibly. In the first instance, contact the relevant bike share company directly with any enquiries or concerns about the location or condition of a share bike.
If you see a damaged shared bike, please report it to your council, or to the relevant public land manager, depending on where the bike is located.
Neither the Office of Local Government nor local councils manage bike sharing services in NSW.
Key Resources
Modal Popup
Please complete the form below for more information.
Search our website
Please enter a search term below and we will do our best to help you find the information you are after.