Public Spaces (Unattended Property) Act 2021
Protecting our public spaces from unattended and abandoned items and animals
The NSW Government is committed to meeting community expectations for safe and enjoyable access to public spaces now and into the future.
The Public Spaces (Unattended Property) Act 2021 passed Parliament in November 2021 and will help protect valuable public spaces across the State from abandoned and unattended items and animals.
The new Act will repeal the Impounding Act 1993 following the first comprehensive review since it was introduced more than a quarter of a century ago.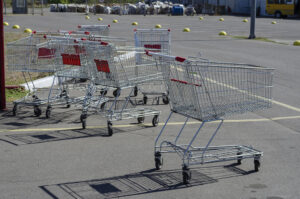 It is important to note that the new Act has not commenced and will come into effect on a date appointed by proclamation.
The new laws will provide councils, other public land managers and police with stronger powers and penalties to rid our footpaths, streets, parks, bushland and waterways of abandoned and unattended property.
The new laws will see owners and others responsible for private property left in public such as shopping trolleys, unregistered and abandoned cars, unattended trailers and stray stock face stronger regulatory action if they do not remove them within risk-based timeframes.
This includes on-the-spot fines, higher court penalties, rapid seizure action and enforcement orders.
The new laws will make it easier for councils to store and dispose of unattended or abandoned items and animals that they take into possession, significantly reducing red tape and cost for local communities.
The changes will also improve the ability of council officers to track down owners of shopping trolleys and vehicles, reducing the need for impounding action.
The reforms are expected to reduce the cost of dealing with shopping trolleys, vehicles and animals in public spaces by 60 per cent, saving $10.1 million a year or $71 million over 10 years for local councils and communities across the State.
These reforms were developed following widespread consultation with councils, members of the public, industry/business groups, retailers, peak bodies and government agencies.
The Government will carry out further consultation as it develops regulations to support the operation of the new Act including setting fine amounts and risk-based timeframes that may trigger regulatory action.
The date of proclamation of the new Act will be determined by the Minister for Local Government based on the development of supporting regulations and guidance and the readiness of councils, other authorities, industry and communities to implement the changes.
The Office of Local Government will continue to consult with councils, other authorities and industry to develop training, guidance and communication materials to assist with implementation.
The Public Spaces (Unattended Property) Act 2021 is available on the Legislation Register at www.legislation.nsw.gov.au.
Further detail for key stakeholders and the public will be made available closer to the time that the Act commences. Meanwhile, a full summary of what the Act provides for is set out in the Circular to Councils 21-39 Public Spaces (Unattended Property) Bill 2021 here.
Further information on the review of the Impounding Act 1993 can be found here.