Councils are guided by a range of laws, regulations and policies to support them to make good decisions that will create positive outcomes for their local communities. Councils must comply with laws and mandatory policies or guidelines. Councils should comply or take into consideration, many other policies and guidelines to conform to best practice when making decisions on behalf of their communities.
Local councils must comply with various Acts and Regulations. The Office of Local Government administers, or shares responsibility for administering, the following:
Local Government Rating Reform
The NSW Government is committed to strengthening the performance and sustainability of local government. To deliver on that commitment, the Minister for Local Government, the Hon. Shelley Hancock MP, introduced a Bill containing a series of sensible reforms developed collaboratively with the local government sector as part of an extensive public consultation process.
That Bill, now the Local Government Amendment Act 2021 was passed by the NSW Parliament on 13 May and assented to on 24 May 2021.  A copy of that law as passed by the Parliament made be viewed here
This law provides for changes that implement the Government's commitments to rating reform and enables superannuation contribution payments for councillors. It also aligns terms of office of chairpersons for county councils and joint organisations to their member councils and allows greater flexibility in the administration of elections.
There is now greater flexibility for councils formed in 2016 to harmonise rates from 1 July 2021. Each council can choose, in consultation with their communities, to harmonise their rating structures gradually over up to 8 years.
All councils, including those harmonising their rating structures, may also:
set separate residential rates for different residential areas
set different rates for farmland based on geographic location

Links
The Children's Guardian Act 2019 (the Act) aims to protect children by seeking to embed the Child Safe Standards as the primary framework guiding child safe practice in organisations throughout NSW. The Act requires OLG, as a prescribed agency, to develop and publish a Child Safe Action plan describing how we will work to promote awareness of the Standards across local government and how we will build the capability of local government to implement the Standards to ultimately improve the safety of children in NSW.
As a trusted regulator and capacity builder OLG is responsible for enabling councils to better serve their communities and build their capability to implement the policy and regulatory changes of Government.
OLG will assist councils implement the Standards in several ways, including to:
Create and implement the OLG Child Safe Action Plan.
Incorporate the Standards into relevant policies and guidelines produced by the OLG.
Provide sector leadership and opportunities for engagement to raise awareness of the Standards.
Communicate with the sector to increase awareness of child safety responsibilities.
Support councils to build their capability to implement the Standards.
Promote the availability of resources and tools created by Office of Children's Guardian and other organisations. These include templates, training, checklists and case studies.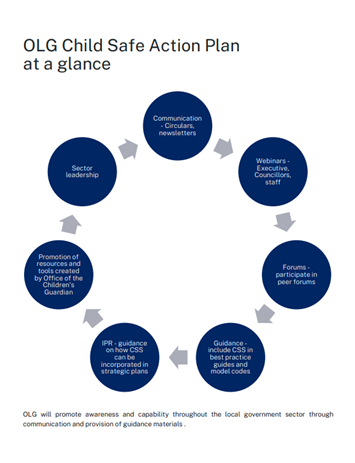 Resources