---
Impounding Act Review
The NSW Government is currently undertaking a comprehensive review of the Impounding Act 1993 (the Act). The Act aims to help protect people's safety in, and enjoyment of, public spaces. It enables councils and other public land managers to deal with the negative impacts of abandoned items and stray animals.
The review process is outlined below.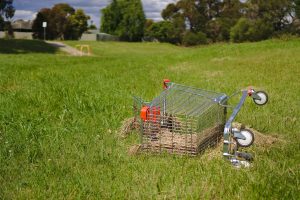 Phase 1 – Consultation on issues
A Discussion Paper about the review of the Act was released for public comment during 2020 to seek feedback on whether the Impounding Act remains effective for managing animals and other items left in public spaces. This captured feedback on, and potential solutions to address, the impact of items such as shopping trolleys, boat trailers, share bikes, abandoned cars, e-scooters and stray stock. Feedback on the Discussion Paper closed at the end of March 2020.
The Discussion Paper Submissions Summary Report (July 2020) has been released here.
Phase 2 – Consultation on options
Public feedback on the Discussion Paper was considered when developing preferred options to change the Act. The Government asked for an open discussion amongst key stakeholders to test these preferred options around three key issues: shopping trolleys, stock animals and vehicles, including boat trailers.
Details about the three workshops, and the options papers released on the day of the workshops, and the feedback deadline on each are below:
How to have your say on options for change
Feedback to these Options Papers will inform the next stages of the review process and may be made by mail or email by the closing date listed in the above table to:
Email: olg@olg.nsw.gov.au
Mail to: Locked Bag 3015 Nowra NSW 2541
For further information, contact the Policy Team at the Office of Local Government on Tel: 02 4428 4172 or email to olg@olg.nsw.gov.au.
---
Local Government Act Review
The NSW Government has been leading local government reform to:
Improve council performance, integrity, transparency and accountability
Streamline legislative, planning and regulatory frameworks and requirements, and
Build strategic capacity of local councils so they are better placed to serve their local communities.
The reform program continues today, with a renewed focus on responsible and transparent governance, and quality, affordable services for communities.
Over the past few years there have been important amendments to the Local Government Act to improve business planning and governance, and strengthen the accountability of local leaders.
Further amendments to the Act were made in June 2019 through the Local Government Amendment Act 2019. Amendments made include:
ensuring councils are given the time they need to have important conversations with their communities about changes to the rating system and to make important decisions about arrangements for council elections in 2020
removing some of the current limits on local government procurement and make other amendments to cut red tape and reduce the regulatory burden on councils and local communities, and
allowing more opportunities for councils to share regulatory services and staff across existing boundaries to achieve higher quality services and best value for money.
The Government is examining work undertaken by the Independent Pricing and Regulatory Tribunal (IPART) in reviewing local government regulation, reporting and rating. Three separate IPART reports on these issues were released for public consultation in June 2019. Submissions have now closed. The Government is currently considering feedback and will respond in due course.
For more information, click on the following links: